MAGIC HOUR
Steed Taylor
August 4, 2021 — September 1, 2021
Broadway, 39th Street - 40th Street
The Garment District has been "inked" with a brand new road tattoo, Magic Hour, created by artist Steed Taylor. 
Image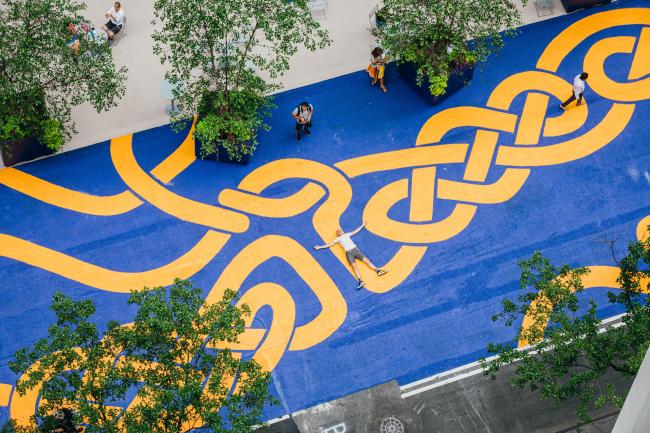 The massive mural stretches 225 feet down one block of  Broadway between 40th and 39th street that has been closed to vehicular traffic through the end of August. 
Image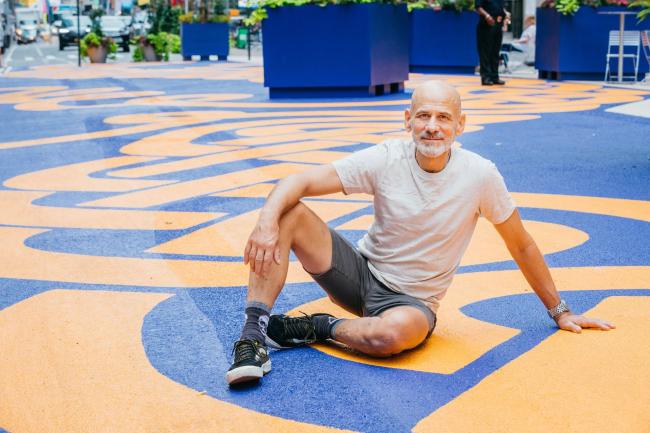 Taylor's 'road tattoo' concept pays homage to communities, with roads serving as the 'skin' of the community; as individuals mark their skin as a means of commemoration, communication or ritual, Taylor marks roads to symbolize similar meanings. The Magic Hour mural, which creates a winding path on Broadway through trees and planters, represents the transition from day to night, when the sun is setting and the light is golden. 
Image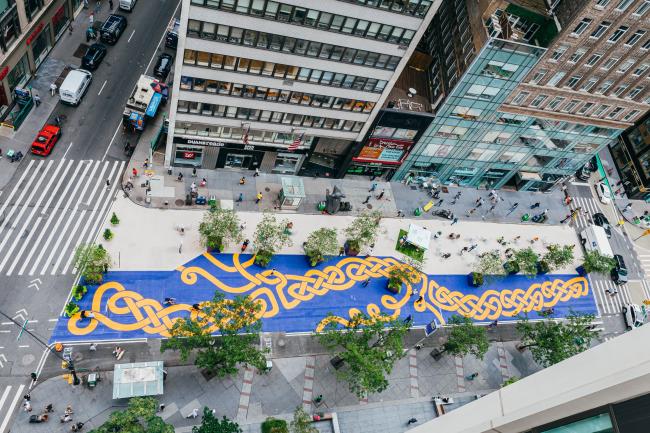 The installation is part of Garment District Art on the Plazas, a year-round public art program made possible through Arterventions, part of the New York City Department of Transportation's Art Program. The Garment District Alliance and DOT work closely to coordinate the exhibit and install the pieces, which enhance the public plazas and make them even more welcoming to New Yorkers and visitors alike. The installation is also a component of DOT's Seasonal Streets - temporary transformations of streets into vibrant public space.
Image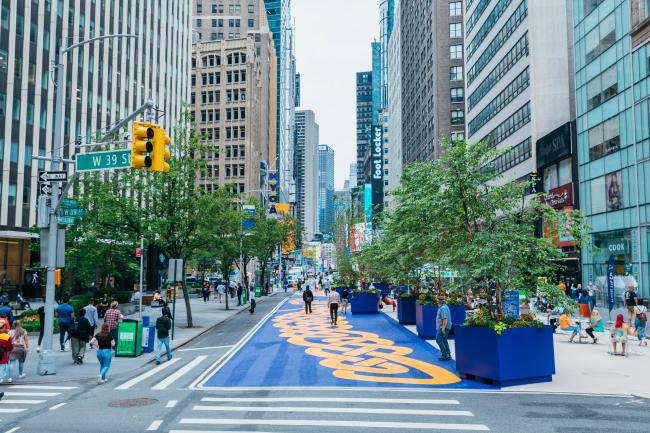 "The Magic Hour mural adds another exciting layer to the Garment District Alliance's lively summer programming along Broadway. Urban art enhances the quality of our public spaces and inspires New Yorkers and visitors alike to reimagine the purpose and potential of our streets," said DOT Manhattan Borough Commissioner Ed Pincar. "We thank the Garment District Alliance and Steed Taylor for helping create and bring even more vibrancy to Broadway."