Street-
Scape
For twenty seven years, the Garment District Alliance has improved the pedestrian experience by investing in our streets. Whether planting new trees, enlivening our public space, or installing new lighting, we are committed to making the Garment District better, brighter, and more beautiful.
Image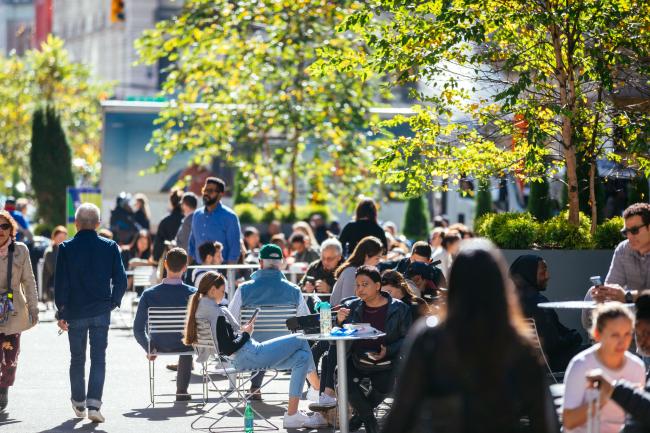 Garment
District
Plazas
The most exciting streetscape improvement in the District has been the "Garment District Plazas," a fully landscaped pedestrian esplanade that runs from 36th to 41st Streets along Broadway and includes pedestrian living rooms (public benches, chairs, and umbrellas). The Garment District Alliance worked with the Department of Transportation to implement the project and it has become a treasured public space and home for public art in our neighborhood. The Alliance continues to conduct daily maintenance of the plazas and strives to keep the plazas clean, green and safe.
Image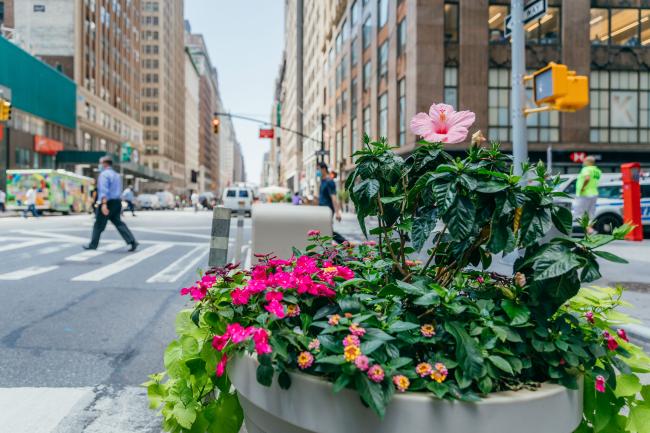 Horti-
Culture
On the Broadway plazas and our 7th Avenue pedestrian lane, we now have over 430 trees and planters, displaying seasonal plant life. We completed three different rotations this past year, from colorful spring flowers to lush summer annuals, to hearty winter evergreens. We also maintain over 70 custom tree guards around our tree pits to add protection and style.
Image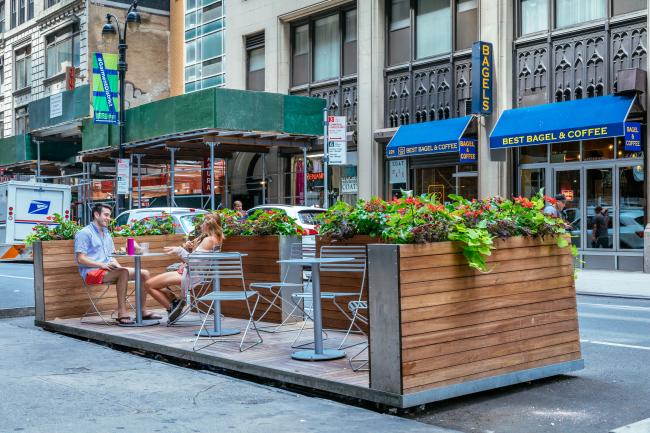 Street
Seats
Working with the Department of Transportation, we identify locations that would be ideal for a temporary Street Seat. One Street Seat takes up a single parking space and typically draws 100 people each day. This can improve retail sales by 10%-15% and create a brand-new public space in areas normally deprived of seating and greenery.
Image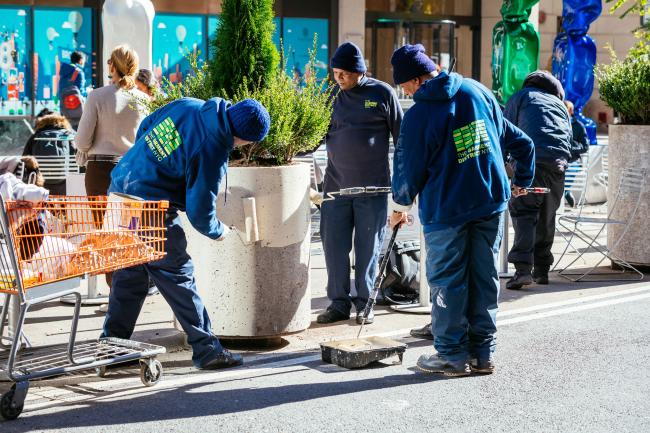 Taking It
Block
By Block
Each week, the Garment District Alliance conducts extensive maintenance on all of its streetscape elements. From bollards to bus shelters, we are committed to keeping the area clean and graffiti-free and making it better each and every year. And our numbers don't lie.
Since our inception in 1993, the BID has worked to maintain, beautify and improve thousands of elements, including 1,600 pieces of street furniture, 380 security lights, 325 planters, 300 signage poles, 300 tables and chairs, 100 banners, 90 waste receptacles, 80 decorative lamp posts, 70 tree guards, 28 Fashion Walk of Fame plaques, and 20,000 square feet of Garment District Plaza space. We keep track of over 2,000 city street elements and we've made thousands of reports to NYC's 311 hotline to date. We believe that no improvement is too small and that our attention to detail is resulting in a cleaner, safer Garment District.