Glowing
Seesaws
in Midtown
News Jan 28, 2020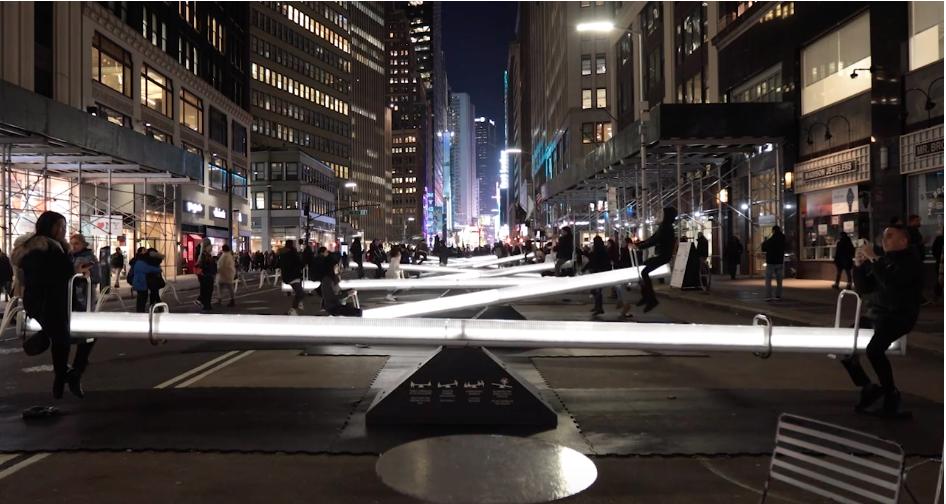 There Are Glowing Seesaws in Midtown and New Yorkers Are Losing It
A quick pick-me-up (and drop me down!) in the heart of the busy city.
On a recent Friday evening, huddles of adults were exuberantly reliving childhood, yelping and hollering with joy on one of the busiest streets in Manhattan.
The reason: a dozen illuminated seesaws in the middle of Broadway, between 37th and 38th streets.
The set of playground-inspired contraptions, known as Impulse, is the latest installation in the Garment District Alliance's yearlong public art program. The seesaws arrived on Jan. 6 and will stay until Feb. 1.
"I've heard screaming in midtown Manhattan before and it's never been a good thing," said Barbara Blair, president of the Garment District Alliance. "But Impulse has people laughing and screaming and really enjoying themselves."
The seesaws were designed through a collaboration between Toronto-based design firm Lateral Office and Montreal-based architectural firm CS Design. The installation debuted in 2015 at an event in Montreal and has since traveled to various locations around the world.
Ranging in length from 16 to 24 feet, each of the seesaws glow from LED augmentation and emit musical sequences as riders bounce up and down. The sounds mingle with the shrieks and whoops of riders.
Refer someone to The Times.
They'll enjoy our special rate of $1 a week.
Morgan Smith, 18, and her friend Serena Pierre, also 18, noticed the seesaws a few weeks ago, and have returned to the installation twice. "It's like a roller coaster," Ms. Smith said. "It makes you channel your inner kid."
Added Ms. Pierre: "I wish we had more art projects like it."
This is the eighteenth art piece the Alliance has installed since 2010 as part of its Art on the Plaza program aimed at enhancing the pedestrian experience year-round.
"The winter in New York can feel so dark and cold and long," Ms. Blair said. "We thought this particular piece would be a mental and psychological boost."